Familiarity is not such a bad thing in any industry, let alone the motoring scene. It suggests stoicism, dependability and trust. The reality is that Qashqai is now over 11 years and two-and-a-half generations old…the most recent of which was introduced in mid-2017…and it is all of those things plus a whole lot more. When you recall that Nissan is in a strategic partnership with Renault (and more recently Mitsubishi), the Qashqai has also fostered the Kadjar model that has been equally fruitful for its Gallic sidekick.


Let's face it, in excess of 2.3m customers over Qashqai's existence cannot be wrong, can they? When you analyse what car buyers want these days, as long as it falls into a class known as 'SUV', a large tick appears on the wall. However, since that descript is now becoming exceedingly hackneyed, not least because cars like Qashqai are as far removed from being utilitarian as they can ever be, as long as you accept that they are the new, default 'family car', then you are well on the way towards comprehending the Nissan sales boom that has occurred.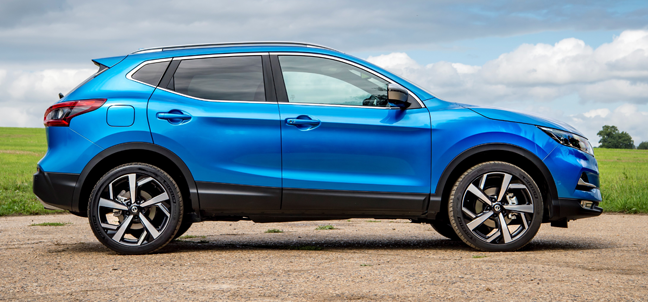 To many observers, the Qashqai is the model singularly responsible for the modern phenomenon that is SUV. Yet, to escalate that slippery ladder demands that it satisfies a number of core parameters, the first of which is comfort. The recent updates introduced on the car have lifted it considerably above the standards-setting levels that Qashqai introduced eleven years ago.


Of course, comfort, in terms of trim detailing and tactility levels for occupants is excellent but it translates into something else that drivers understand more broadly. Whereas a lot of the Nissan's rivals have traipsed down a sportier pathway, imbuing aspects of hot hatch character into most of the dynamic aspects of their cars – suspension, steering, brakes and so on – Nissan has stuck to a more traditional form of comfort. In some ways, French motorcars (before they started to believe that their only way to volume sales lay in becoming German) established the kind of ride comfort and almost languorous, loping cruise quality inherent to the Qashqai. It makes me, as a critic, ponder about the influence and impact that Renault has made on Nissan.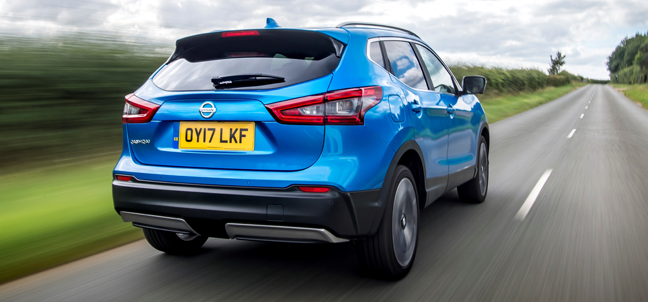 If you want a car that rides impeccably and avoids the jarring suddenness of some SUVs, then a Qashqai ought to be on your shortlist. Its sweet dynamic qualities gift the car an unique place in the class. As such, any and all drives in a Qashqai are eminently satisfying, relaxing and pleasing to all occupants. That they are accompanied by levels of exceptional refinement is a bonus. Both driver and passengers will feel cosseted, insulated and inured against whatever ills modern roads and driving conditions chuck at them.


Thanks to ingenious packaging, the Qashqai is also well-proportioned inside and, although this latest version no longer features the seven-seat option that was available on the Mark One range, occupants can luxuriate in the ideal blend of hip, head, shoulder and legroom space that many of its competitors fail to provide. Incidentally, if you need seven seats, then Nissan also makes the X-Trail, which is one of my long-standing favourites in the larger category of go-anywhere vehicles. Yet, Qashqai offers a 430-litre boot that expands to 1,585-litres, when the rear seats are folded forwards.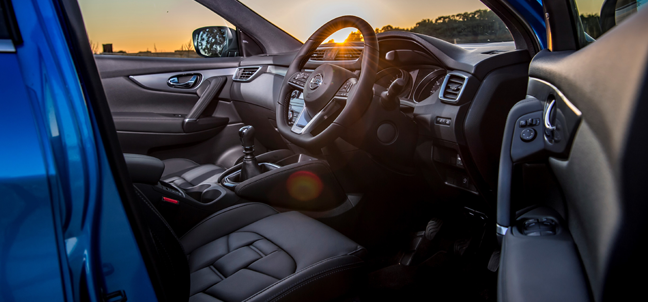 Perhaps more importantly, when Nissan introduced the original Qashqai, it was quite careful to imply that it was biased more towards a new segment of the car scene; crossover. In fact, Nissan has led this class since the outset and today's Qashqai is the UK's third-best selling model overall. Quite an achievement really.

As with other Nissans, there are five trim levels available: Visia, Acenta, N-Connecta, Tekna and an even more upmarket Tekna+. Every version is well-specified and all models feature Bluetooth connectivity, LED running-lamps, cruise, parking sensors and automatic full-beam setting. Spend more progressively up the trim chart and you arrive at the top-spec version, with quilted hide seats that are heated and electrically adjustable, a panoramic sunroof, Nissan 360-degree AroundView cameras and a fancy BOSE stereo system, possessing sounds to blow off your socks.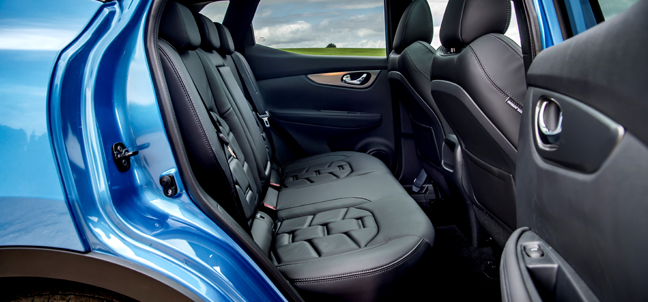 The engine choice includes two petrol and two diesel variants. While the 112bhp 1.2i and 108bhp 1.5dCi are available across the range, above basic Visia level, the punchy 1.6i petrol unit that develops 161bhp (0-60mph in 8.9s) and the 128bhp version of the 1.6-litre dCi (turbo-diesel) factor in strong performance allied to excellent fuel economy and CO2 emissions figures. If an auto-box is your bag, then Nissan's self-developed CVT (gearless) X-tronic unit works surprisingly well and 4WD is available for N-Connecta trim and above but only with the 1.6dCi engine.


Qashqai owners love the high-riding feel and there is a wide array of driver assist programmes that include the usual safety items but also incorporate chassis stability and grip controls that work subtly but are actually market-leading. However, it is the potential of low operating costs that keeps them happiest. The 1.5dCi is rated at 74.3mpg on the Official Combined fuel cycle, with a mere 99g/km of CO2 emissions. To be fair, the 1.6dCi is not far behind, at 65.7mpg and 115g/km. By comparison, the 1.2i petrol-turbo manages 57.6mpg and 129g/km, with its 1.6i alternative offering 50.4mpg and 132g/km, allied to cracking performance, as already suggested.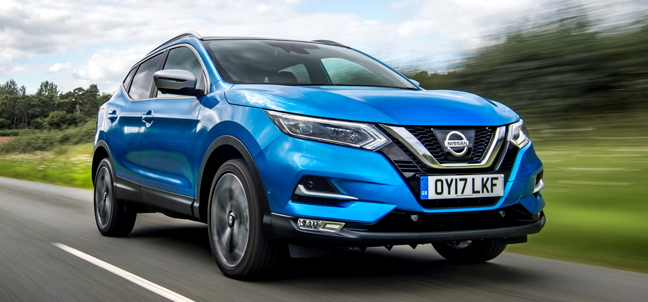 To keep abreast of technological developments across the rest of the industry, Nissan has incorporated an impressive array of semi and fully-autonomous safety and driving features in the latest versions of the Qashqai that include auto-braking, road sign recognition, crash mitigation, drowsiness warning and both frontal and rear collision avoidance.