Dani Stevens came to the Invictus Games to overcome her fear of water so that one day she could swim with her baby boy.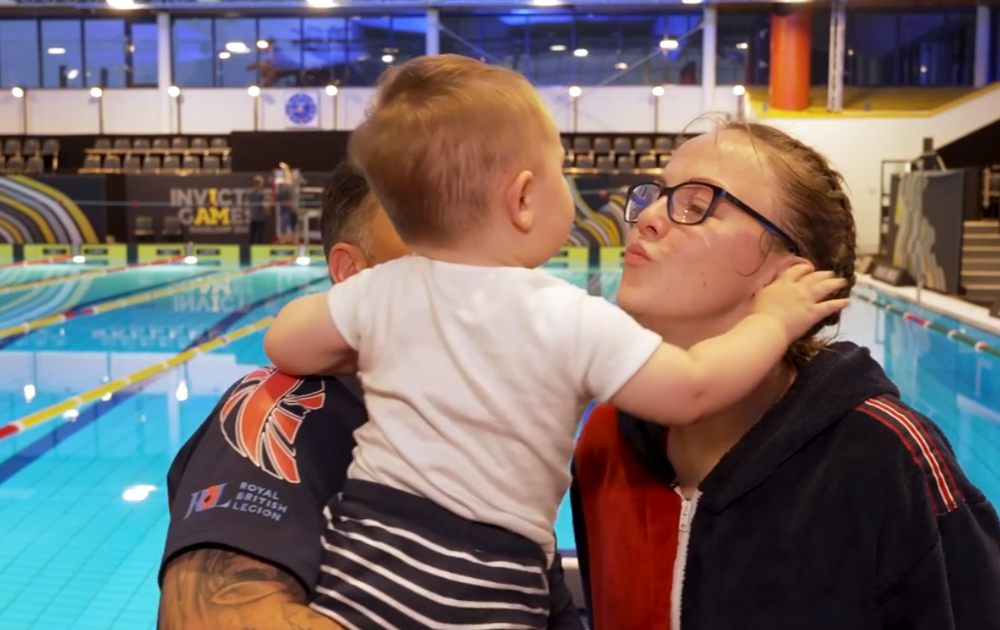 Team GB's Dani Stevens with baby Henry at the Invictus Games
"Swimming is a sport that I am terrified of. I had an accident in the water and before I had my little boy it never really bothered me. But since having Henry, I'm just desperate to take him in the pool and go swimming as a family. Today was really special – I got in the pool, I swam in front of my boy for the first time.

"It's given me the courage to know that I can overcome anything."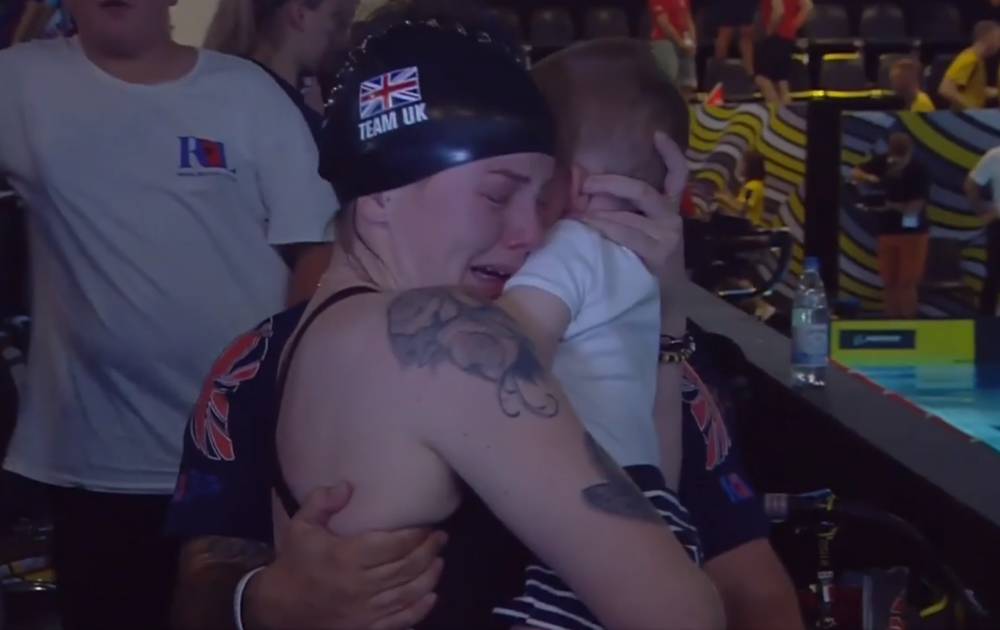 Dani Stevens hugs her baby after overcoming her fears
An Invictus Games proposal!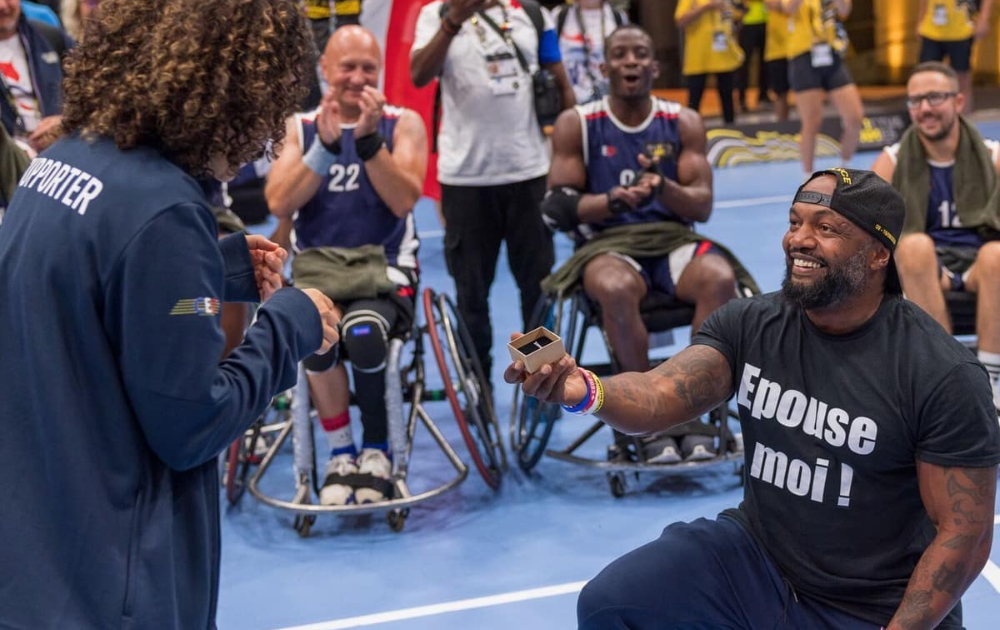 An Invictus Games proposal!
Didier Ramin proposed to Ibtissan Ouaicha after France's Wheelchair Basketball victory. Spoilers: she said yes!
Four minutes before the end of the game, the 23-0 win no longer seemed to be the most important thing for the French spectators. They got up, left the stands and lined up at the edge of the Centre Court, as Didier proposed.
The whole team and their family & friends had known about it, but kept their mouths shut!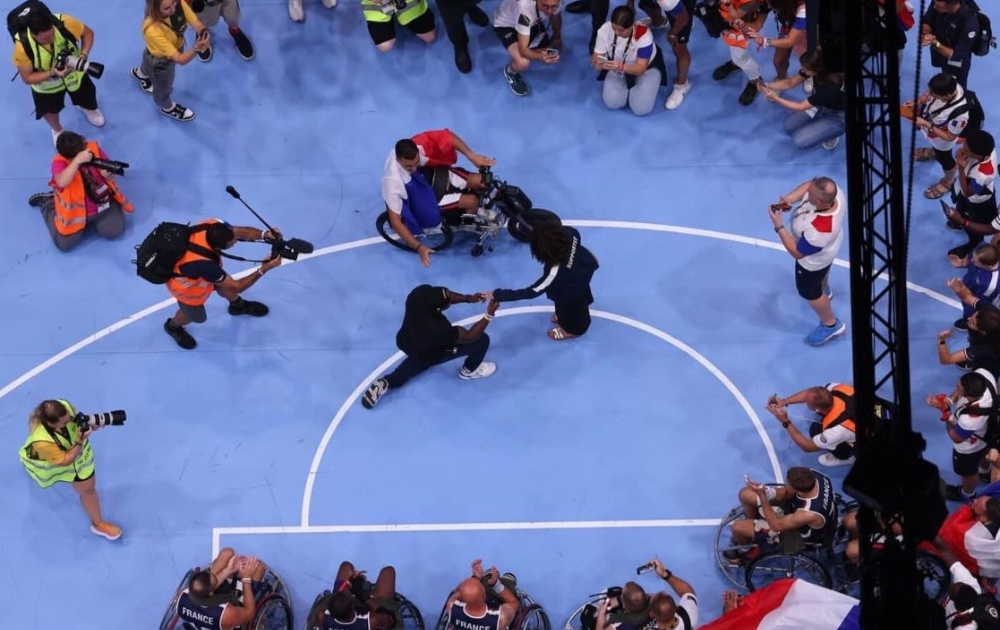 The Invictus Games proposal at Dusseldorf 2023
Another moment which really encompassed the spirit of the Invictus Games was this touching moment: Team UK competitor Clare Gibson and Team Australia equipment manager Pete Rudland supported Team Jordan's Rola Amro across the line in a borrowed race chair.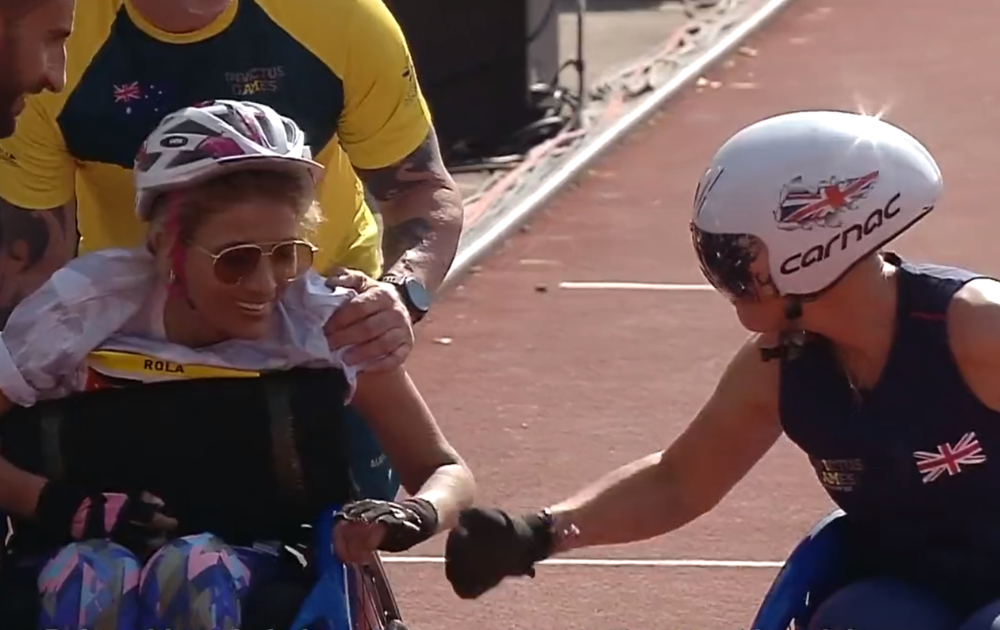 Rola Amro and Claire Gibson celebrate after crossing the finish line
Gibson had seen Amro for the first time in the tent before the 100m race.
"Rola told me that she had never ridden in a racing wheelchair before, [so] I promised her: I'll take care of you!"
She stuck to her word, holding back to encourage Amro across the line – which she did, to a standing ovation.
"That's the message of the Invictus Games, it shows what these Games mean," were the words echoing over the tannoy.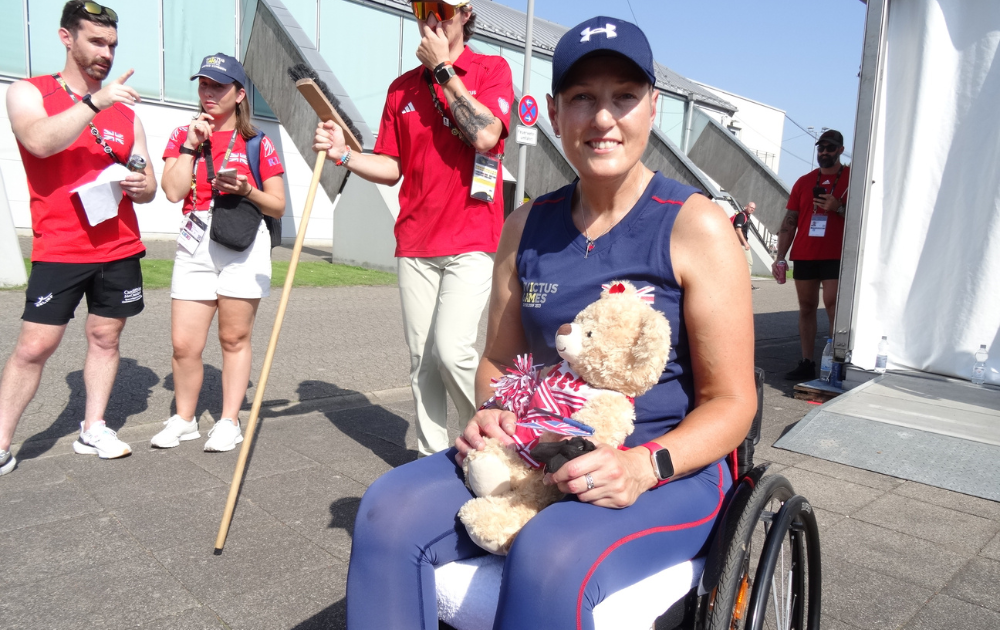 Claire Gibson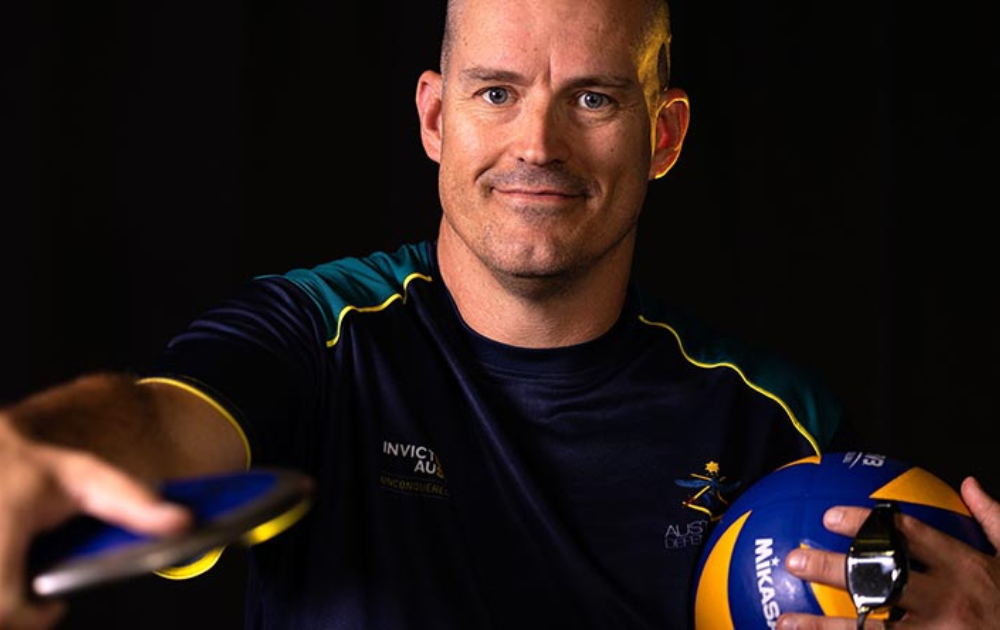 Nathan King

For Flight Sergeant Nathan King, it was a big day on both the track and field.
Competing in the men's IF1 Shotput and IF1 Discus Throw, it was a move he pulled on the finishing line of his IT2 100m final race that showed who he really is.
Crossing the line, he saw his French competitor in the neighbouring lane trying to stop from falling awkwardly. Despite his efforts, the runner took a tumble but was quickly pulled to his feet by the humble Aussie team co-captain.
"You see that sort of thing on any stage around here, but I think that's just me in general life; you're always going to help someone up," Flight Sergeant King said.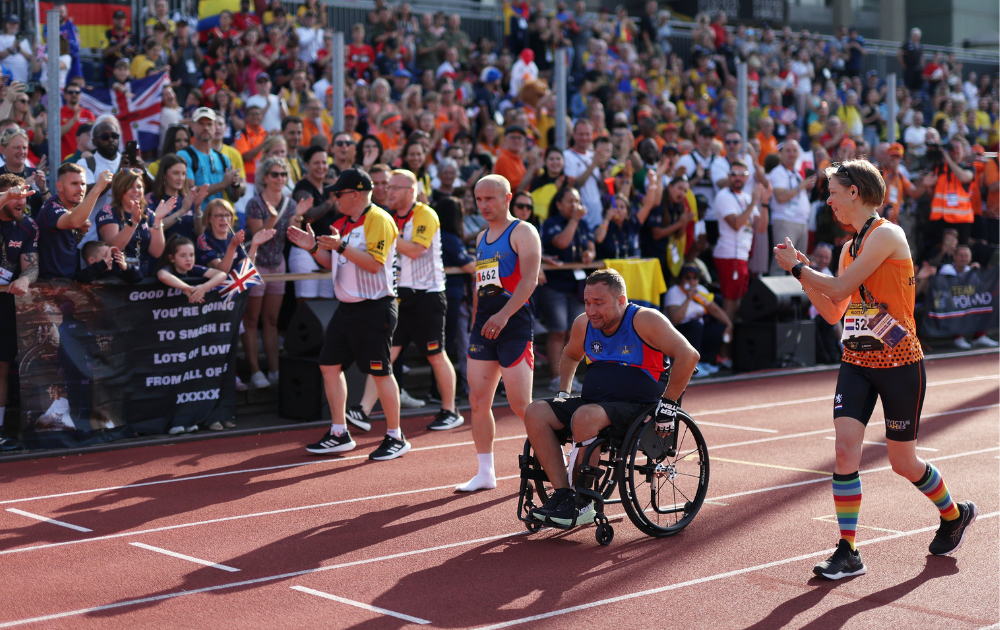 Valentin Popa
The #InvictusGames is not about being the quickest, strongest and highest.
Valentin Popa of Team Romania took over 25 minutes to complete the Mens IT5 1500m and was given a heroes reception on his final lap. He embodies the Invictus spirit.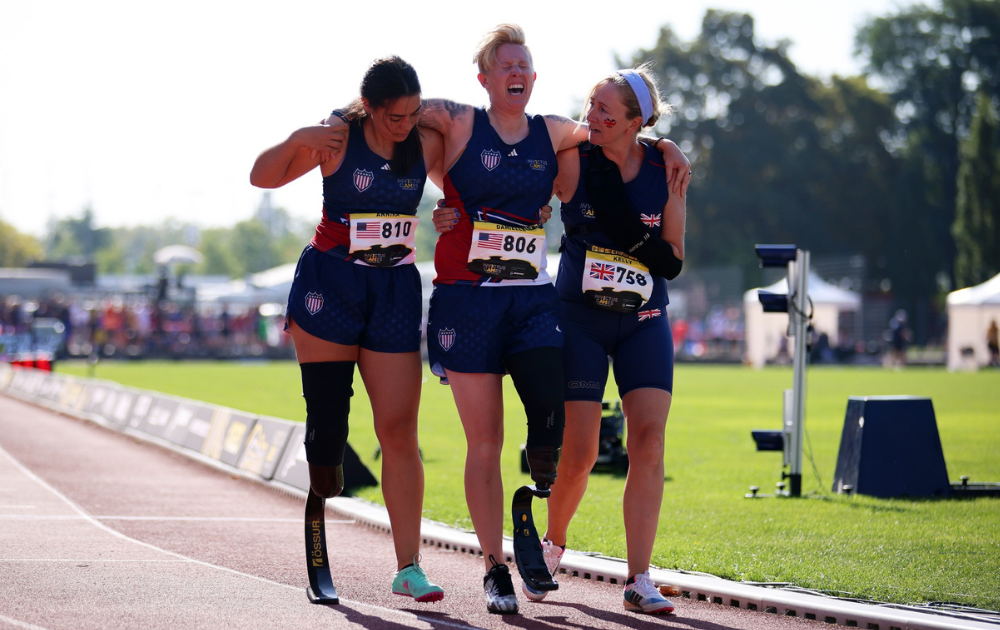 Annika Hutsler, Danielle Pothoof, and Kelly McVitty at the 2023 Invictus Games
There were several amazing examples of teamwork and camaraderie. Danielle Pothoof was supported by Annika Hutsler and Kelly McVitty during the Women's IT1 200m Final, while these men decided working together and building new friendships is more important than any victory!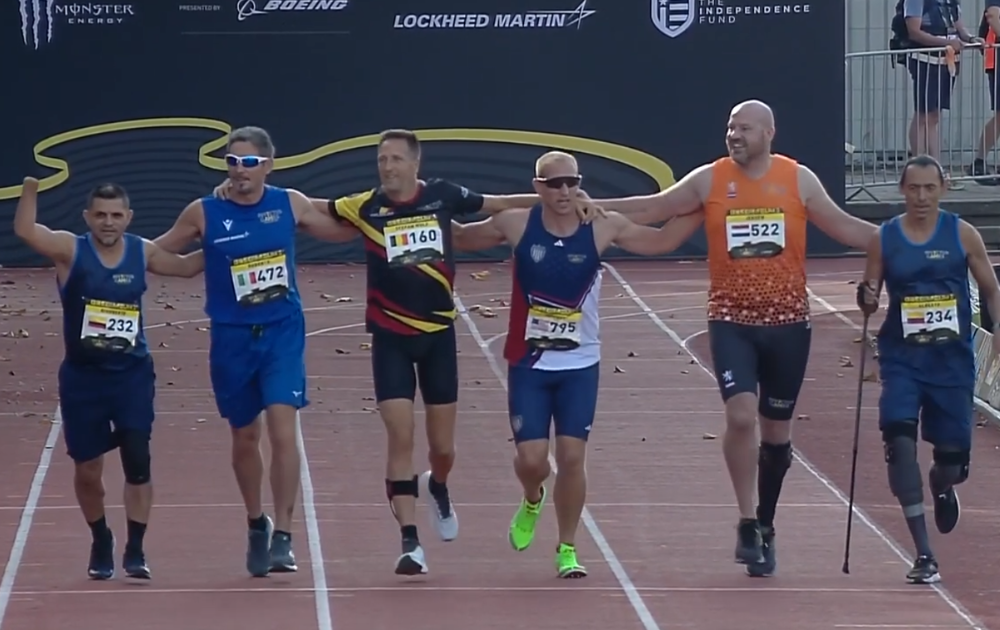 Cameraderie
And we couldn't finish this round up without a mention of the support dogs!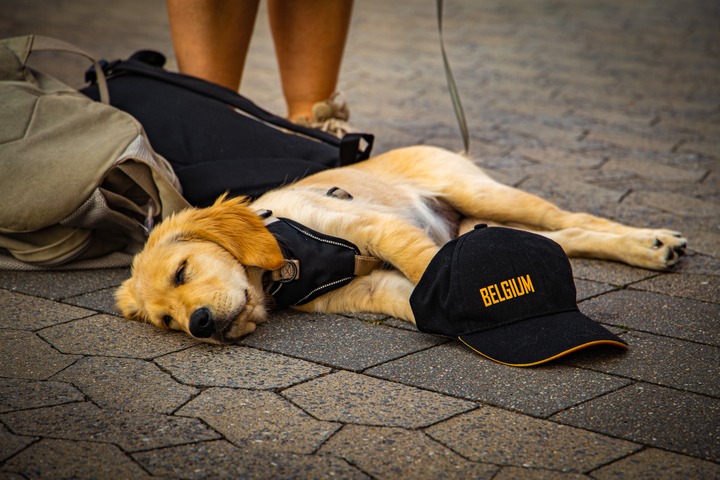 A tired service dog with Team Belgium