It is amazing how some films, like The Italian Job, were produced on shoestring budgets and even faltered at the box office. Yet, they have endured trips through decades since first breaking cover that have turned their stars, usually the cars, into fond household memories. One of the more recent additions to the fold is the 'Fast & Furious' franchise, which seems genuinely to have found legs considerably stronger than the original storylines, which were slipshod at best.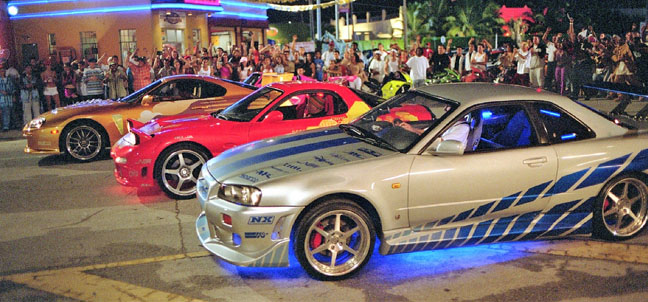 As Hobbs and Shaw continues to dominate the box office, Tempcover has looked back over the Fast and Furious franchise, to work out which film is the fastest and which is the most furious (www.tempcover.com/the-facts-and-the-furious). According to its calculations, Fast & Furious 6 is the fastest film in the franchise, with Dom and the gang spending a combined 32 minutes and 15 seconds in race, or chase scenes. Furious 7 takes second place, with a combined 30 minutes spent racing and chasing. At the other end of the table, it is actually the original film, The Fast and the Furious, that comes in last place, with just 17 minutes and 57 seconds spent in either pursuit (it was clear that by 'testing' the market, the zeitgeist would be found).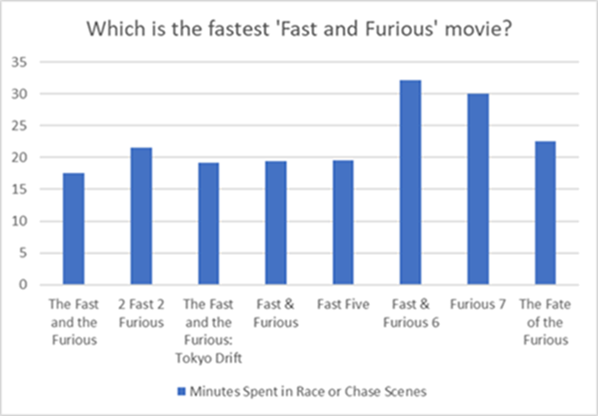 To establish which film is the most furious, Tempcover added up the number of explosions, the number of weapons used, the number of cars damaged and the number of punches thrown in each film. The Fate of the Furious, the 8th film in the franchise, took the top spot for most furious-ness, with a whopping 292 points, followed by Furious 7 with 149. In fact, Tokyo Drift was the least furious in the franchise, with just 21 explosions, weapons, punches and car wrecks in its total.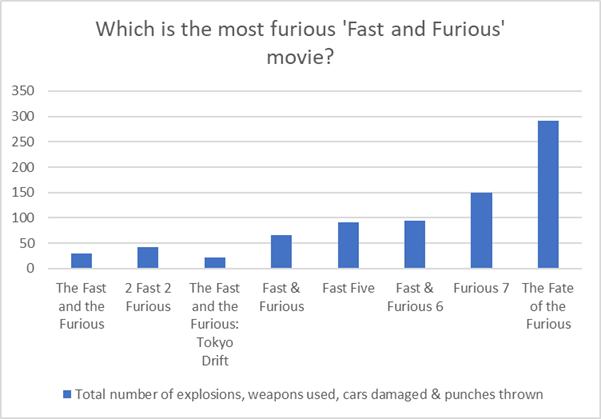 If you wish to head over to the Tempcover site, you will be able to read the full set of data, including how many times Corona is shown on screen, as well as how long Vin Diesel spends talking in monologues!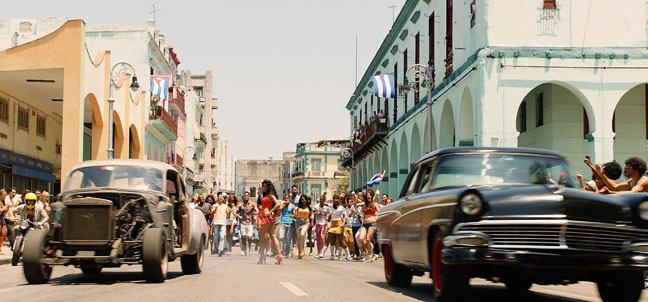 Of course, analysis of this sort can be 'dangerous', after all, the movies themselves are not really deep enough to read much more than the fun and frolics that were intended originally by their scriptwriters. If you fancy a really great book, then 'The Self Preservation Society', by Matthew Field, provides a forensic breakdown of The Italian Job, including reprinting the original script and delving into the production 'tricks' that allowed numerous cars, including a couple of exotic Aston Martins and Lamborghini Muiras, to be smashed to smithereens, as well as how the famous three Minis managed their various tasks.