Formula Ford was the primary breeding ground for many of motorsports top racing superstars of today. By the same token, the original Ford Escort allowed enthusiasts to indulge in either circuit or off-road based competition. While Ford's problems are myriad, during the 1990s, Renault moved into Ford's holy-of-holies ground and has continued to work its way into the hearts and minds of a more sophisticated but still enthusiastic power base.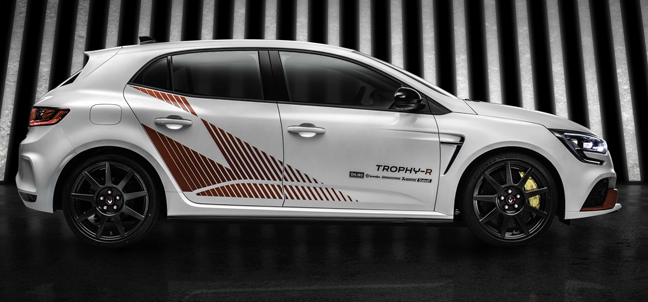 Having established its RenaultSport operation, a convenient soubriquet (RS) that used to belong solely to Ford has crept into greater usage on some very specific Renault models, notably in the Clio and Megane ranges. The latest and easily most enticing version of the Megane hatchback also carries the handle RS Trophy, with the additional postscript of a hyphenated 'R', for its most extreme example. Renault appreciates that this class of 'race-car-for-the-road' should not exist and that, while a lot of potential owners may covet it, only a very few will ever own it.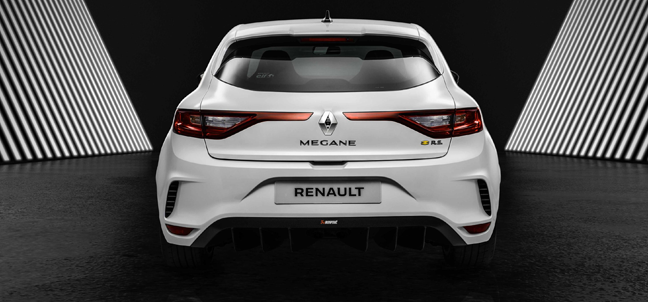 Featuring a dramatic reduction in weight, with 130kg saved over even the 'standard' Megane R.S. Trophy model, this is the 'R' version that was also the fastest ever front-wheel drive production car to lap the Nurburgring 'Green Hell' Circuit, in the Eifel region of Germany, at 7m 40.1s. It also features totally redesigned suspension with lighter, motorsport-inspired components. There is even more negative camber for the front axle and standard Ohlins adjustable dampers are fitted all round.


Renault Sport developed with Bridgestone the S007 tyres that have been optimised for both fast road and high-speed track use. Aerodynamic improvements have been made by applying underbody cladding and a carbon-fibre rear diffuser. Powering the RS Trophy-R is a 297bhp version of Renault's turbocharged-petrol, 1.8-litre, four-cylinder engine mated to six-speed manual gearbox. A Torsen limited slip differential provides the ideal blend of ultimate traction and control at the helm.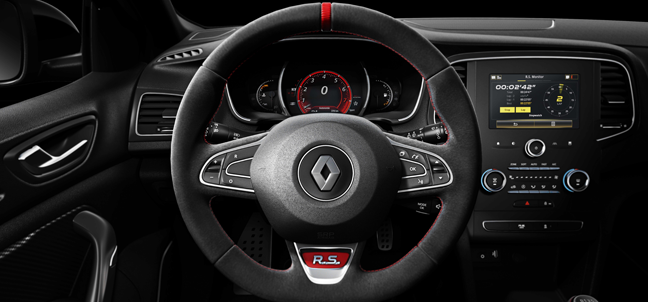 Optional carbon ceramic front brakes and carbon wheels, which are a first in this sector, can be specified, although larger diameter Brembo four-piston front brake callipers are standard. Also standard is the carbon composite bonnet, complete with NACA air intake duct. Of course, you will hear the crackle and pop of an approaching Megane RS Trophy-R, as it has been fitted with a lightweight titanium Akrapovič exhaust system that is exclusive to the car.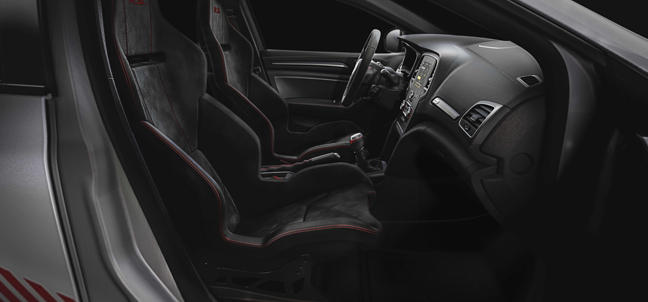 Sabelt composite front seats are hip-hugging and can be specified with the optional six-point racing harness for track-luring moments. With raciness securely in mind, a six-speed manual gearbox is fitted as the only as gearbox and it is lighter than the dual-clutch automated-manual transmission fitted to the regular Megane Trophy. The production numbers are strictly limited to just 500 examples for pan-European sales, with just 30 right-hand drive examples coming to the UK. The prices will be announced and the order book will be open from August, with UK deliveries expected to begin this October.