You might believe that, with a perpetual high-performance drive by the vast majority of vehicle manufacturers, allied to a perceived shortage of beat officers and law changes that make the archetypal car chase (as epitomised by numerous 'cops and robbers' TV shows) an immoral pursuit, some forces had simply given up. Following a day-long trial at a former RAF base test facility, I can tell you that some crooks might be better to pursue an alternative career.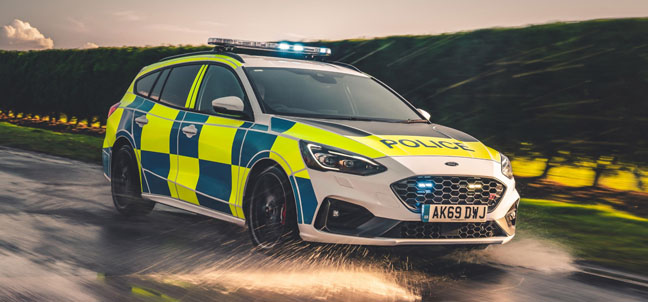 It is very easy for observers to eyeball the reflective liveries of high-end Audis, BMWs and Mercs and then question their associated high-end material costs, reflected unsurprisingly in brand reputations. Higher trade-in valuations (residuals) help to obviate higher list prices but all vehicles modified-for-purpose will carry a hefty premium. While Ford and Vauxhall products tend to be a default option for most service fleet operators, for use as panda cars, criminal movements and pool transport, at the performance end of the scale, Ford has its ST line and Raptor pickup truck options available.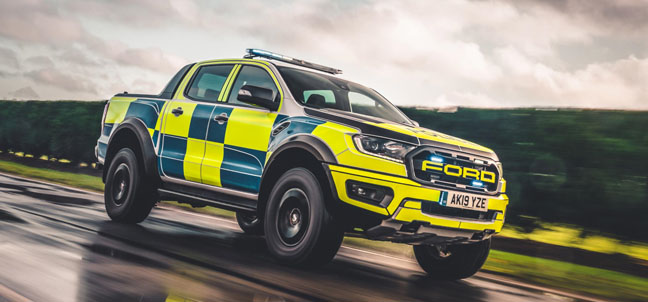 A Focus estate car in ST trim has a 150mph turbo-petrol potential, even laden with equipment. It is also acceleratively quick, compact and agile enough for fast road duties. Putting an example through its paces on a slalom course, complete with a packed boot and, just for fun, with the 'blues and twos' in strident use, proved outstandingly conclusive. The beefed-up sports suspension is virtually unswayed by raising the car's notional centre of gravity. Crisp and satisfyingly weighted steering responses are matched by minimal body roll and high levels of mechanical grip, thanks to electronic chassis vectoring control. Its stability at indicated speeds of up to 110mph, even in a slight and typical airfield crosswind, is excellent.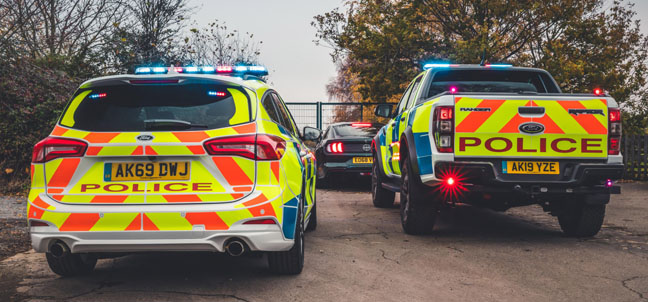 The current Focus estate car is also spacious enough for burly police officers, with a very practical load area, suitably racked-out for all-purposes tasks. However, if more room is needed, the Ranger Raptor fits the bill to perfection. As road tax is not an issue to a Home Office national service, its inability to satisfy the normal conditions of a one-tonne crew-cab pickup is irrelevant. However, its well-protected load deck provides abundant space for bulkier items, while a deck cover and glazed hardtop option provides additional weather protection.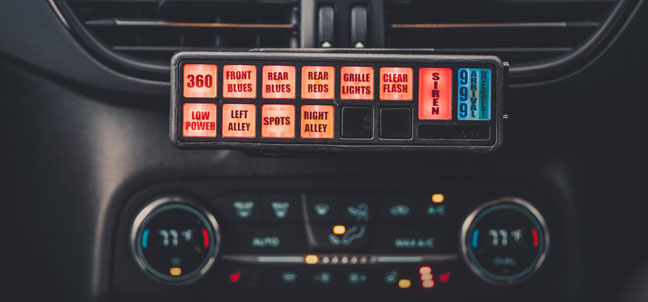 In the meantime, the four-door cabin access provides more room for occupants, while flipping the rear seats can increase the carrying capacity for more specialised equipment. The Raptor is eminently practical for forces dealing with outlying communities, especially in largely rural areas. Its punchy diesel engine and automatic transmission are an ideal match for a workhorse, while the Raptor's aftermarket suspension system and big boots afford it an off-road capability that is among the very best. Of course, these modified vehicles are still expensive items but they are also eminently saleable in post-service roles.