British sportscar manufacturer, Aston Martin, possesses a long and proud association with aviation, most specifically with our own Royal Air Force. Three of its four UK manufacturing locations are based on former RAF stations at Gaydon, Wellesbourne and St Athan, where a state-of-the-art manufacturing facility has just been built inside ex-MOD Super Hangars. This heritage and strong connection to the RAF has led Aston Martin to bring its aviation projects together under 'Aston Martin Wings', an exciting programme that will see Aston Martin's bespoke service, Q by Aston Martin, deliver a further series of limited edition models linked to aviation over the coming years.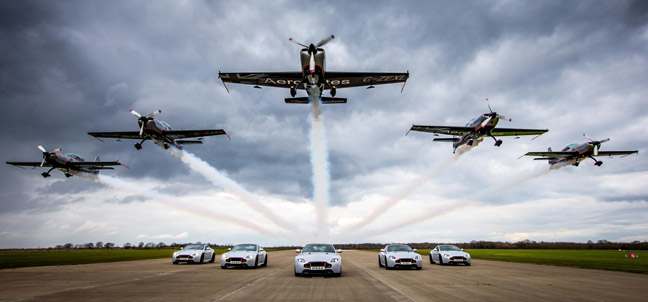 The inspiration for Aston Martin Wings was the Vanquish S Red Arrows edition, with which residents close to RAF Scampton, in Lincolnshire, will be familiar. Built in 2017 after Q by Aston Martin received a commission from Aston Martin Cambridge, these special cars contained exquisite details linked directly to the aircraft. For example, each of the Vanquish S Red Arrows built contained switchgear made from the undercarriage leg of a Red Arrows Hawk aircraft. A mere ten examples of the cars inspired by the Red Arrows were produced, with nine of them sold to eager customers prior to 'Red 10' being raffled, which raised an astonishing £1.46million for the RAF Benevolent Fund.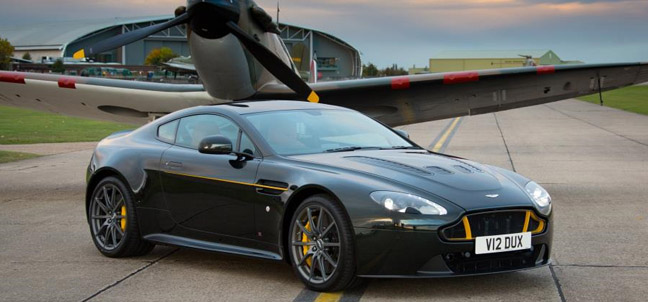 Another aviation project supported by Aston was the V8 Vantage S Blades Edition, named after the famous British aerobatics team. Featuring bespoke styling and interior tailoring, all five Blade Edition Aston Martins were delivered to customers during a very special day at Sywell Aerodrome, where each new owner was treated to an unforgettable aerobatic flight experience with The Blades.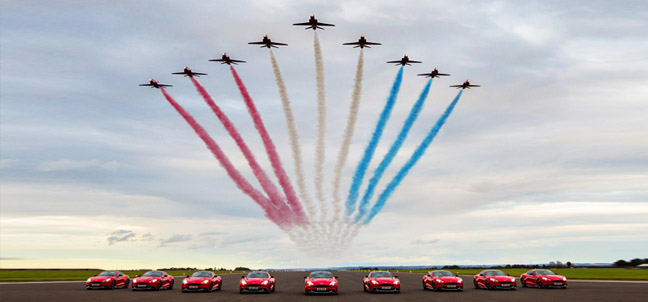 During both World Wars, Aston Martin's factories were called upon to build aircraft components, most famously for the Spitfire and Mosquito in WW2. The V12 Vantage S 'Spitfire 80', once again a commission by Aston Martin Cambridge, through Q by Aston Martin, celebrated one of the most iconic designs in British aeronautical history and the 80th anniversary of the Supermarine Spitfire's first flight. Now in the hands of eight proud owners, the Duxford Green-painted cars are really easy to identify as each of them carries the trademark Spitfire yellow pinstripe on both the side strakes and deck lids of the cars.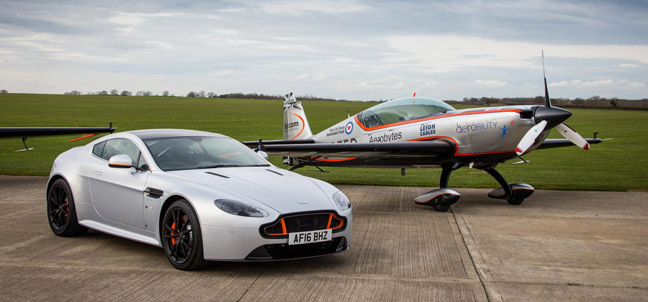 Aston Martin President and Group CEO, Andy Palmer, has very close links to the RAF and has become, in fact, an Honorary Group Captain in 601 Squadron, Royal Air Force. He told us: "Aston Martin will always be synonymous with aviation, from our wings company logo to the heritage of our manufacturing sites in the UK. The Vanquish S Red Arrows edition was a great success for everyone concerned and I look forward to presenting our future aviation-related special editions."