The clocks have changed, Halloween is over, bonfire night is just around the corner... No doubt about it, winter is on the way, and bringing cold, icy weather with it.
Just these few simple checks could make sure you're fully prepared for any weather!
Luckily, we've got an easy-to-remember acronym - use FORCES: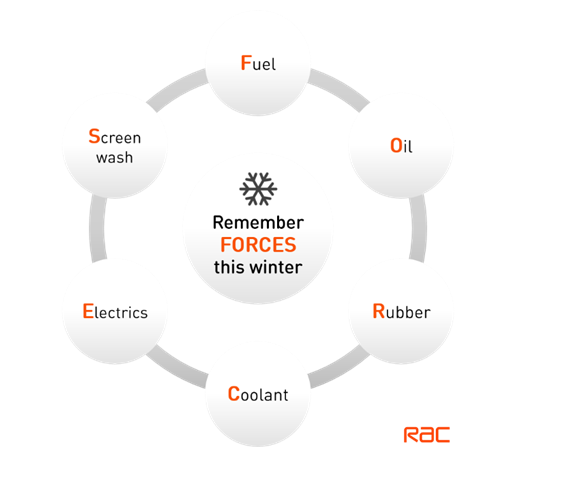 Fuel: make sure you have enough fuel for your journey. There's never a good time to break down, but below-zero weather is definitely one of the worst!
Oil: check your oil level using the dip stick and top up if required. Be careful not to overfill, and replace the cap firmly when done.
Rubber: check your wiper blades, tyre tread depth and air pressure. The legal tyre tread depth for cars in the UK and Europe is 1.6mm - but ideally 3mm in icy or wet conditions.
Coolant: coolant (a mixture of water and antifreeze) is pumped around your engine to cool it. Check your engine coolant level and top-up if necessary.
Electrics: check that your lights and indicators are working properly, replacing bulbs or fuses if needed.
Screen wash: top up your screenwash with a product that is effective down to at least -15 degrees Celsius. This helps to avoid visibility issues and a frozen windscreen.