Forces Cars Direct have been named as one of only 11 organisations in the East Midlands to receive the Employer Recognition Scheme Gold Award for outstanding support towards the Armed Forces community, Defence Minister Leo Docherty announced today.
Representing the highest badge of honour, Employer Recognition Scheme Gold Awards are given to those that employ and support those who serve, veterans and their families. This year's awards brings the total number of Gold holders across the whole of the UK to 493.



Minister for Defence People and Veterans, Leo Docherty said:
"I would like to thank all the organisations who have proven their support for the Defence community during such unprecedented and challenging times.




"The vast range of those recognised this year demonstrates how employing the Armed Forces community makes a truly positive and beneficial impact for all employers, regardless of size, sector or location."
Bruce Spencer, the Ministry of Defence's Regional Employer Engagement Director for the East Midlands, said:


"We are delighted that so many local companies have been recognised with this Gold Award. It has been a particularly difficult year and despite that, these organisations have gone above and beyond to ensure our Armed Forces community is supported. They should be very proud of this significant achievement."
Steve Thornton, Founder and CEO Forces Cars Direct said:


I am so proud and delighted that Forces Cars Direct has been honoured with this prestigious Gold ERS award. As a veteran myself, offering a rewarding service to personnel is at the heart of everything we do, not only in the dedicated discounts that we offer, but going far beyond the sale of a new car to offer understanding, flexible solutions for the Armed Forces needs, and supporting service leavers in their journey after the military. We are proud of our own military history and will continue to champion others within the community too.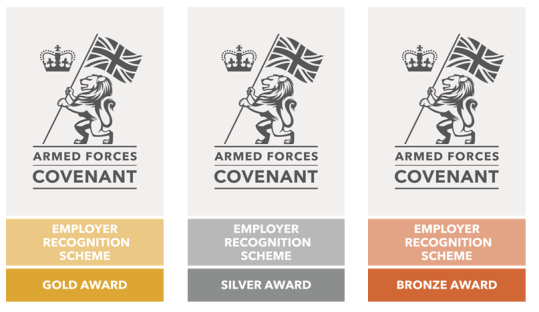 Launched in 2014, the Employer Recognition Scheme aims to recognise employer support for the wider principles of the Armed Forces Covenant and the full spectrum of Defence personnel. This includes the Reserves, service leavers, cadets, spouses and wounded, injured and sick.
The full list of Employer Recognition Scheme Gold, Silver and Bronze award winners is available here.
The Armed Forces Covenant is a promise by the nation ensuring that those who serve or who have served in the Armed Forces, and their families, are treated fairly. Find out more and sign up here: https://www.armedforcescovenant.gov.uk/get-involved/