It's a known fact that there are more men working in the automotive industry than women. However there has certainly been a shift over the years, with women working to confound stereotypes, rising above and defying not just traditions but laws too.


At Forces Cars Direct and Motor Source Group, 43% of our team are female who work in various roles, setting us higher than the industry average of 33%.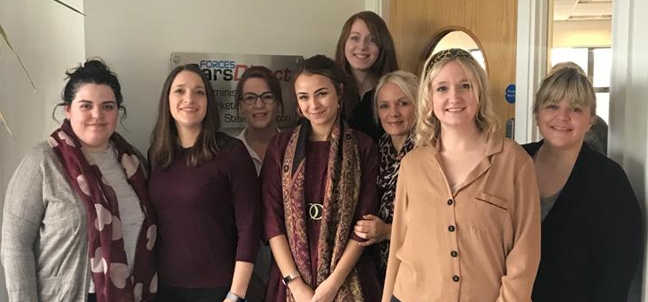 Some of our ladies: L-R: Helen Cook, Zoe Critchley, Amy Bennett, Jessica Giles, Samantha Jarvis, Laura Foster, Beth Twohig-Lawton, Sharon Kirk

Did you know...
33% of the automotive industry are women source
43% of women don't trust the automotive industry source
85% of car buying decisions are influenced by women source

WOMEN IN THE AUTOMOTIVE INDUSTRY - TIMELINE

1888 – Bertha Benz, Germany
Betha Benz helped to bring the first practical automobile to market in 1886 (developed by her husband) by completing the world's first long-distance road trip in a private, petroleum-powered car.
1903 – Mary Anderson, USA
Mary Anderson invented the first windshield wipers attached to the outside of a car, featuring spring-loaded arm with a rubber blade. An invention which we all benefit from today!
1916 – Alice Burke & Nell Richardson, USA
Alice Burke and Nell Richardson began a 10,000-mile trip across America in their 'Golden Flier' Saxon supporting voting rights for women. The car became a symbol for the suffrage movement and was used as a podium for speeches in many town and cities.
1943 – Helene Rother, Germany
Working at General Motors, Helene Rother was the first female automobile designer. She had an impressive career with General Motors and Nash Automobiles.
1968 – Rose Boland, Eileen Pullan, Vera Sime, Gwen Davis and Sheila Douglass, UK
The Ford Motor Company Dagenham plant strike of 1968 was initiated by these fearless sewing machinists, triggering the passing of the UK Equal Pay Act 1970.
1975 – Lella Lombardi, Italy
Maria Grazia 'Lella' Lombardi became the first female Formula One driver to have a top six finish in a World Championship race at the 1975 Spanish Grand Prix.
1993 – Penny Mallory, UK
Penny Mallory became the first woman to compete in a world rally car, going on to claim the National Ladies Champion Rally Driver in 1993.
2008 – Danica Patrick, USA
Danica Patrick made history when she became the first woman to win an IndyCar Series race in Japan in 2008.
2011 – Manal al-Sharif, Saudi Arabia
Manal al-Sharif became the face of the Women2Drive campaign, a campaign against the fatwa on women driving in Audi Arabia, after she was imprisoned for posting a video of herself driving. The ban was lifted in September 2017, with changes taking effect in June 2018.
2014 – Mary T Barra, USA
The first female CEO of a major global automaker was Mary T Barra, who became the Chairman and CEO of General Motors Company in 2014.
2017 – Brehanna Daniels, USA
Brehanna Daniels made history as the first African-American female tyre changer in NASCAR.